I don't have all too much to say other then the drinks were good, the music was good, and there were a TON of people in there... I'll leave you with some pix tho!!
awe damn... the stiff arm!! That's pass interference rodeo!!!
Tapped 3 Times standing up, yet passed out on the bar!! Gotta love the pile of napkins and matches that the other patrons started piling on him!!
Late Night explains the intricacies of her top to holy.
Kane after he joins the DC crew for a short happy hour!!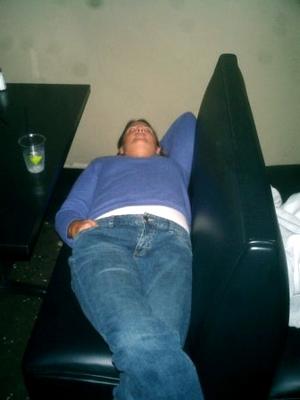 Marshall taking a brief rest on one of the many comfy benches in the bar
Ummmm.... More pass interference? I dunno, you got me!
MM elaborates the importance of ordering two drinks at a time due to the ridiculous crowd at the bar to Kane.
Tooth Fairy, Meatloaf, Late Night, and Haystack hangin out.
posted by Cptn S.A. Ho @ 9:15 AM,

2 Comments:
At Wed Oct 19, 10:47:00 AM EDT, Weeeeee! said...

At Wed Oct 19, 05:05:00 PM EDT, The Muse said...